The Faculty of Education at Vancouver Island University provides students with international experience opportunities either through international field experience placements or a semester abroad. The Faculty of Education also offers admission opportunities for international students to the full-time option in the Master of Education in Educational Leadership and Master of Education in Special Education programs, as well as to the Bachelor of Education and Bachelor of Education Post Baccalaureate programs.  With Admission Requirements outlined on each program page, we encourage international applicants to see how one of our programs can support their educational and professional goals.  
Our Initial Teacher Education Programs have placed students in countries such as:
Belize
China
Egypt
Ghana
Korea
Thailand
To explore how you could participate in an international placement or study abroad semester, please see our international experience opportunities page.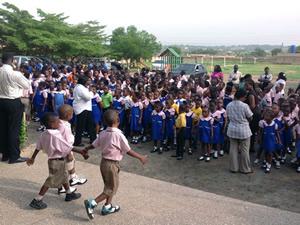 More about international practical placements. During a recent practicum, a group of VIU initial teacher education students with 2 faculty, Paige Fisher and Ron Sandland, travelled to Ghana where they joined the faculty and students of Tema Ridge school.