Use the MENU item on the right of the screen to access additional information links. 

Student Testimonials -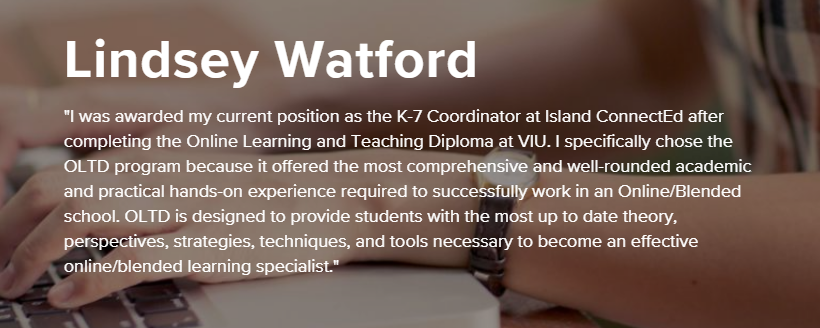 "OLTD was a truly amazing journey and I feel that it has been hugely valuable in my teaching and in my life. To think, a few short years ago I'd never even held a smartphone and didn't believe I'd ever take up the trend of texting, and now here I am on the cutting edge of technology use in education!  Wow!!"

"Participating in Vancouver Island University Online Learning and Teaching Graduate Program has been an incredible experience. …I feel the course and program has far exceeded my expectations"
"Primarily, it has completely shattered my former conception of how education should and can be delivered using technology. Secondly, it has made me so much more functionally confident with an array of programs and learning tools. Finally, through exploring educational models and philosophy it has forced me to refocus and reshape my own personal philosophy of education."
"OLTD 501 has given me so much more than I could have expected from an introductory course."
"One of our key learnings to date has been to grasp the concept of online learning and then attempt to relate it to our everyday practice."
Distance learning is one of BC's educational growth areas and teachers with expertise in this rewarding area are in popular demand. The program was designed in cooperation with professionals and school district distance learning principals to meet the needs of today's 21st Century online learners.
Program graduates can expect to find rewarding online teaching opportunities in DL classrooms locally, nationally and internationally. The program also qualifies graduates to complete  VIU's Master's of Education (Leadership) program with only an additional 10 credits of project work. Graduates who are BC certified teachers will also qualify for increased TQS salary placement (depending on your current salary status.)
The innovative two-year, part time, fully-online, 30 credit program, develops confident educators competent in the use of existing and emergent technologies to optimize online learning and teaching opportunities for diverse learners in equally diverse environments. Through digital immersion in a variety of environments, both synchronous and asynchronous, graduates will explore theory and its practical applications based on research, as well as current and emergent practices.
The OLTD Program engages a small cohort model and meets industry and school district needs for knowledgeable and skilled distance educators focused on engagement, achievement and student success.
The program will appeal to teachers, instructors and trainers with an undergraduate degree (a B.Ed is not necessarily required) and current teaching experience. Intakes are scheduled to begin in September annually and applications are currently being accepted.
Applicants with a B.Ed will also be considered without current teaching experience.
Please contact educ.gp@viu.ca for more information.