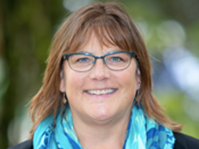 University Professor: Undergraduate Teacher Education and Masters of Educational Leadership Graduate programs
Coordinator: Master's of Educational Leadership – Distance Option
Director: Centre for Innovative Educational Leadership @VIU
Office: Building 356, Room 201
Phone: 250.753.3245 Ext: 2002
Email: Paige.Fisher@viu.ca
Dr. Paige Fisher's teaching work at VIU spans teacher preparation and graduate level educational leadership. She spearheaded VIU's Faculty of Education 'Embedded Practicum' model for undergraduate teacher education and coordinates the Master of Educational Leadership - Distance program.
Paige considers herself to be "… a 'scholar-practitioner' in that my scholarly inquiry is deeply embedded in my teaching practice at the university and in diverse sites of learning."
Her research interests include teacher education, empowerment-focused classroom assessment, education transformation and system change, culturally responsive pedagogy, rural and remote education and collaborative professional learning. This focus includes global education and schooling in rural and international contexts. She has lead field schools for teacher candidates in Ghana, Belize and India and continues to work in partnership with Chitkara University, Chitkara International School and the GEMS school in rural India.
She has received VIU's Collaborative Research Award (2019) as well as the ABCDE's (Association for British Columbia Deans of Education) Teacher Educator award (2019). She serves on several educational advisory committees throughout the region such as the provincial Rural Education Advisory Board, Networks of Inquiry and Indigenous Education and the BC Teacher Education Network.
She also works as a critical friend and advisor for various initiatives in School District #84 (Vancouver Island West), School District #68, (Nanaimo-Ladysmith) and Q'Shintul (Mill Bay Nature School) in School District #71 (Cowichan.)
Save
Save
Save
Save
Save